Neerav Lamba, M.D., M.B.A.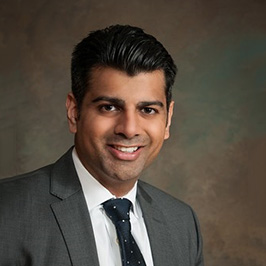 Dr. Neerav Lamba is a native Chicagoan that specializes in ocular inflammation and vitreoretinal disease and surgery.
Dr. Neerav Lamba completed his internship in general surgery at Rush University Medical Center and his residency in ophthalmology at the John H. Stroger Hospital of Cook County. After completing his residency, Dr. Lamba had the fortune of completing a year-long uveitis fellowship at the Massachusetts Eye Research and Surgery Institution. While at the Massachusetts Eye Research and Surgery Institution, Dr. Lamba worked closely with Dr. Charles Stephen Foster, who is one of the world's leading experts in the evaluation, diagnosis, and treatment for patients with uveitis and other inflammatory eye diseases.
Following fellowship training in ocular inflammation and uveitis, he completed a 2-year fellowship in vitreoretinal disease and surgery at the Foundation for Retinal Research in New Orleans, Louisiana. Dr. Lamba has published in top ophthalmology peer-reviewed journals, including Clinical Ophthalmology, Survey of Ophthalmology, and Retina. He is a member of The American Academy of Ophthalmology and The American Society of Retina Specialists.