Advanced Laser Technology
We are proud to offer our patients the advanced technology of All-Laser, Blade Free Cataract Surgery.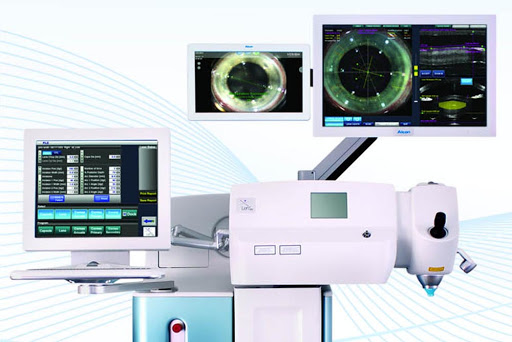 The LenSx Laser will automate some of the most crucial steps of your cataract surgery, allowing for unparalleled precision, safety, and predictability.
Cataract Surgery with LenSx – What to Expect
Benefits of Laser Surgery and How it Works
In cataract surgery, the LenSx femtosecond laser provides precise automation that assists the surgeon in several ways, including:
Incisions Made with a Laser
Cataract surgery requires tiny self-sealing incisions so that your surgeon can remove your foggy lens and replace it with a new intraocular lens. A blade is used to make all incisions in basic cataract surgery. During laser-assisted cataract surgery, every incision is customized and completed using a computer-guided femtosecond laser. During surgery, your surgeon will be able to adjust the size and location of your incisions based on a live 3D image of your eye.
Capsulotomy
Often referred to as the capsular bag, the natural lens of our eyes sits inside a thin, transparent capsule. Your surgeon will need to make a circular perforation in the anterior (front) capsule before removing the cloudy lens. In basic cataract surgery, the surgeon would use a needle-like device to create this opening, then remove it with forceps. By using the laser, the circular opening is created in seconds. Laser-created capsulotomies have been shown to provide increased accuracy and reproducibility compared to standard surgical methods.
Lens Fragmentation: A Faster and Easier Cataract Removal Method
When the laser breaks up and segments the cataract lens, this will reduce the amount of ultrasonic energy and time needed to remove it. As a result, inflammation within the eye is typically reduced, and visual recovery times can be shortened. As early as the next day, most of our patients will experience improved vision.
Astigmatism Correction
Limbal Relaxing Incisions (LRIs) can be performed with the LenSx laser during cataract surgery. In most cases, LRI's can greatly reduce or eliminate a patient's low to mild astigmatism, which will improve visual outcomes. Furthermore, they can be used to fine-tune a toric lens treatment for patients with moderate to high astigmatism. Using 3D custom mapping, your doctor will determine if an LRI is necessary.
To Summarize:
Laser-assisted cataract surgery and basic cataract surgery are both extremely safe procedures. Laser-assisted cataract surgery has the advantages of increased precision, greater predictability, and improved customization. The expert surgeons at Midwest Eye Centers are experienced in both techniques and will explain their recommendations during your cataract evaluation. Please contact our office at (708) 891-3330 with any inquiries or to schedule your evaluation for this life-changing procedure.
Cataract Surgery: Basic vs. Laser